Lost Your Mobile Phone on Travel? Contact Your Mobile Service Provider Immediately to Avoid Unexpected Roaming Charges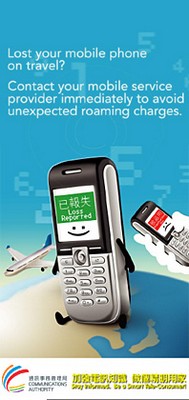 Your mobile phone is as valuable as your credit card. Like credit cards, a bill is charged to the account holder regardless of who uses your mobile phone. If your roaming-active mobile phone is lost, you may have to pay the roaming service charges for any unauthorised use of your phone.
As with the loss of your credit cards, you should immediately report the loss of your mobile phone to your service provider.
What to note when you report your loss?
Some service providers only accept a loss report from the phone subscriber. Others may accept a report of loss by a third party, provided that his/her own personal identification and that of the subscriber can be provided.
Some service providers need a lead-time (about 30 minutes) to suspend the service. The subscriber will still be liable for charges incurred during that period.
Always keep the hotline number of your mobile service provider handy.