What You Need to Know about Calling Number Display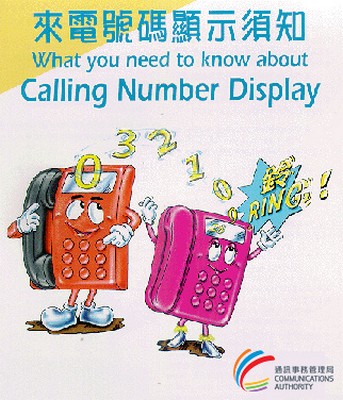 What you need to know about Calling Number Display
The first Calling Number Display (CND) service was introduced in Hong Kong for both fixed and mobile phones in late 1996.
This leaflet will help you understand what CND is, and what you need to know to make the best use of this service.
What is CND?
For the one receiving a call:
This service allows you to know the telephone number of incoming calls once the telephone starts to ring and before you answer the call.
You may then decide whether to answer a particular call, or may choose to note down the number and return the call at a more convenient time.
Most CND equipment has memory functions to store the number of incoming calls, together with the date and time.
This will assist you in managing your personal communications more effectively and enhance your privacy.
For the one making a call:
Your friends and relatives will enjoy the above benefits if they know it is you calling before they answer your call.
In case your calls were interrupted, the other side would still know the number to call back.
If there is no one home, your number and the time of your call may be recorded in the called party's CND equipment, making callback easier.
How to get the service?
You should apply directly to your phone company if it is offering CND. There will probably be a subscription fee.
You will also need to have equipment for display of the incoming number. Such equipment is available from a number of product suppliers, and you are NOT obliged to buy the product from your phone company or any particular retailer.
Before buying or renting equipment, you are advised to test the equipment to ensure that it works, and that it has the functions and features you desire.
Must I let others know my number?
For a network offering CND service, subscribing to the service allows you to know others' numbers when a call is received. But even if you have not subscribed to the service, when you use the same network to make a call, your telephone number will automatically be transmitted to the called party, unless you deliberately choose not to.
You may choose:

Not to disclose your number for a particular call (dial 133 before dialling the number you wish to call. The number will not show up for that particular call); or
Not to disclose your number for all the calls you make on your telephone line (contact your phone company to make the arrangement for a per line blocking).
Both options are FREE OF CHARGE

After opting for a per line blocking, if you later wish to disclose your number to others again, then the choices are:

Dial 1357 before you dial the number you wish to call (this will allow the telephone number to be transmitted for that particular call only);
To reverse the per line blocking option and disclose your number for all the calls (contact your phone company to stop the arrangement for per line blocking).
Both options are also FREE OF CHARGE
Do I always have these choices?
The phone company must adhere to your instruction for blocking your number transmission. However, for per line blocking arrangement, the phone company may need a few working days to adjust the network. While such adjustments are being made, you are advised to note the existing status of your line and dial 133 before each telephone call. You can always check the status of your telephone line by contacting your phone company.
Under the following circumstances the choices will not apply to you:

If you are calling from a network which does not offer CND at all (your number will NOT be displayed to the called party);
If you are calling from a public payphone (your number will not be displayed to the called party);
If you are calling the emergency number 999 (all blocking functions will not be effective and your number will always be displayed to the 999 centre).
What about ex-directory customers?
Some customers have opted not to have their phone numbers printed on the phone company's telephone directory. This, however, does not result in automatic per line blocking of your number.
You still need to exercise one or the other of the blocking options mentioned above if you wish not to disclose your number to others when you make a call.
Does the called party know whether I have deliberately hidden my number?
The technical specifications for CND make a distinction between numbers which are deliberately hidden by the caller (e.g. using the 133 or per line blocking arrangement) and numbers which are simply unavailable (e.g. if the network itself is not able to offer CND, or if it is a call from payphones). This will allow the distinction to be shown on the called party's CND equipment.
If the called party knows the above distinction, he may choose whether to answer a call on the basis of this distinction.
Of course, if the called party does not subscribe to CND service in the first place, it does not matter whether or not you have hidden your number.
Calls to helplines?
Many social service organisations may choose not to subscribe to CND service as many callers to helplines may not wish to disclose their numbers.
These organisations will probably make public announcements on their decision not to subscribe to CND service. You can always ensure non-disclosure of your number by dialling 133 before you dial the helpline number.
Use of telephone numbers received
As a subscriber of CND service, you should be careful about how you make use of the telephone numbers you receive, and you should respect the callers' privacy.
While you may use such a number to identify the caller and call him back, you must not use it for purposes which are not known to the caller, for instance, publicising it, or disclosing it to others without the caller's consent.
There is a Personal Data (Privacy) Ordinance which provides for the protection of privacy in relation to personal data. The Ordinance contains provisions that limit the use of personal data other than for the management of personal, family or household affairs, or for recreational purposes. The provisions are relevant to the use of other people's telephone numbers whether they are obtained through CND or other means. Further enquiries on the provisions of the Personal Data (Privacy) Ordinance can be made to the Office of the Privacy Commissioner for Personal Data Hong Kong at telephone number: 2827 2827.